New lead
Solution No. 321
OVERVIEW
How to create a new lead

SCREEN OVERVIEW
New lead
Lead information
Additional info
Overview
Congratulations! Someone has found your business and is interested in what you have to offer. This person or organization is called a lead and Method CRM is designed to help keep track of just these sorts of business opportunities. Method allows you to create a new lead in much the same way as a new customer would be created within the system. This will allow you to maintain a database of potential customers, allowing you to maximize your potential revenue. So, let's get started!
| | |
| --- | --- |
| | A lead is a CRM-specific term, which means leads do not appear in your QuickBooks file. They will only appear once they have been converted to customer status. |
How to create a new lead
In Method CRM, click Leads > New Lead



Type in the name of the new lead in the Lead name field (for example, Superior Plumbing).



Type in a contact name for the new lead in the Contact field (for example, Bob Crenshaw).


| | |
| --- | --- |
| | The above fields are the only required fields on this page and represent the minimum amount of information Method needs to create a record of this Lead. However, the more information you provide, the more useful your Lead record will be! For more information on the remaining fields on this page, please see our screen overview below. |

Click Save at the bottom of the page to save all information you've inputted into the above fields. This lead will now appear in your Leads and Contacts List.
Screen overview
The following is a breakdown of the New Lead screen. We'll take a closer look at each element of the screen (drop down menus, buttons, etc.) so you know exactly what each element does. We hope this will be a useful roadmap for new users!
New lead
You can access the New lead page by clicking on the New Lead tab link. Let's take a look at the individual elements of this screen – understanding them is the key to learning how to create a new lead! Many of these fields are common knowledge (first name and last name, for example), so let's focus on the ones that are unique to this page.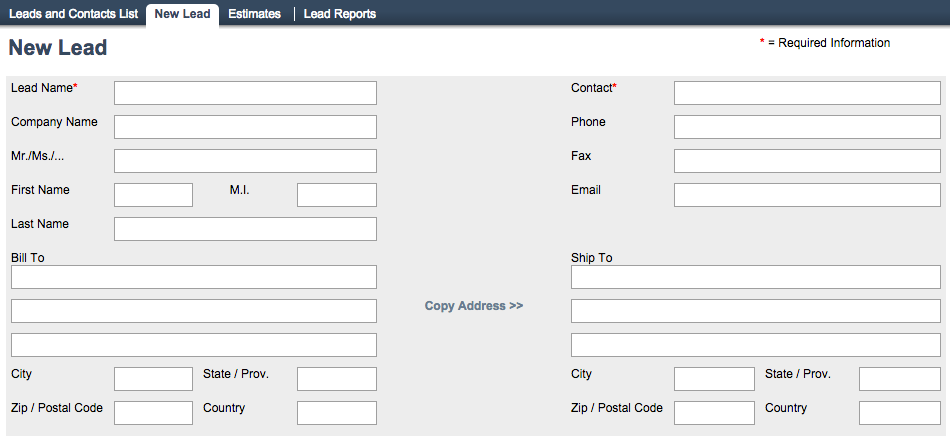 Lead information
Directly below the New lead screen is a secondary section called Lead information. Let's take a look at this section now.



Additional info
The New lead screen also features a check box labeled Add additional info. If you click it, it will open a second part of the screen called Additional Information. Here you will see a series of fields that allow you to add job information, customer defaults, payment and sales tax information related to this lead. None of this is mandatory information, but the more information you have on a lead, the less you'll need to fill in when they become a customer!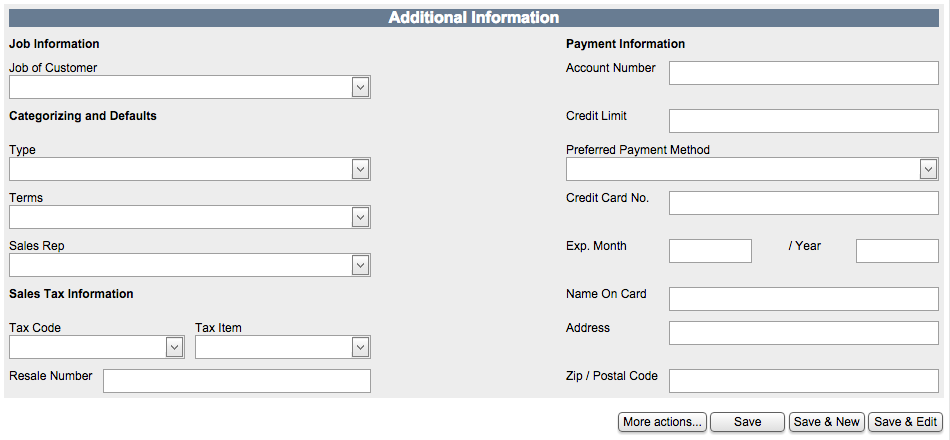 | | |
| --- | --- |
| | The Job of customer, Type and Terms fields are all to do with QuickBooks. Even though Leads don't sync to Quickooks, these fields are in place to provide additional information ahead of these leads becoming customers. The same is true of the payment information you can include: until the lead becomes a customer, this information won't be needed. |
There are four buttons at the bottom of this screen that should be familiar from other areas of method. Let's take a look at each of their functionality.