Emails from Method not being sent
Solution No. 243
Some of our users have reported that emails are not being sent from Method. This problem is caused one of two ways:
The incorrect credentials were saved in the Default Email Preferences screen, or



Your email provider does not support

Open Relay Messaging

. 
Almost always, the cause of this particular problem is the email server being used is the latter. Most providers offering business email accounts (for example, Google Apps for Business) don't restrict the number of Open Relay messages which can be sent using their STMP. Other providers (like GoDaddy) limit the number of messages that can be sent. Smaller third-party providers (such as Host Gator) may not be set up to allow it at all, due to potentially security risks.

The only way to get around this is to switch to an email provider that is set up for Open Relay messaging, or to use a third-party routing service like SendGrid. Once you've switched email providers or confirmed that your provider is set up for Open Relay messaging, you should change your email preferences like this:
Click Customize > My Account


Click the (view/edit...) link next to Default Email Preferences.


Enter the correct information, which includes your full email credentials (yourname@emailprovider.com), then click Save & Send Test Email.
If your business is run on an Exchange server, our integration model with Exchange is very simple. As our diagram shows, Method tries to send mail to your Exchange server using basic authentication settings. If your Exchange box is configured as a closed relay (where only certain IP addresses are allowed to connect to it), you'll have to configure a receive connector to allow our IP addresses to get through your server. Otherwise, Method will try to log into your mail server with your authentication settings.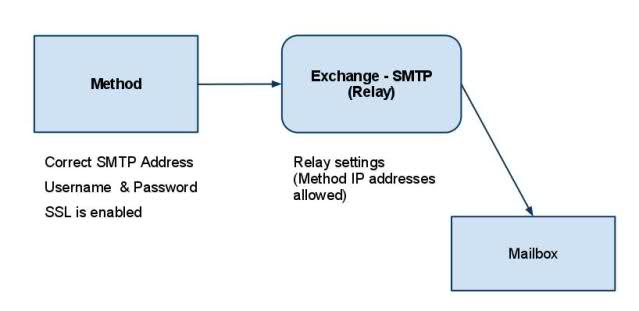 | | |
| --- | --- |
| | Method doesn't provide support for configuring Exchange servers. We recommend you contact Microsoft support for assistance in configuring your Exchange server to accept a Method SMTP connection! |
You may also need to disable SSL if you've configured everything correctly but your Method mail still isn't going through. And of course, for help with all of this, you can always call our Support department!